Implantable Wireless Cardiac Pacemaker to Reduce Mechanical Burden of Pacing-Related Medical Complications
By HospiMedica International staff writers
Posted on 08 Nov 2023
The cardiac pacemakers presently available depend on batteries, and their pacing leads can cause issues like valve damage and infection. Additionally, when the battery runs out, the entire pacemaker must be removed and replaced. While there have been advancements in wireless bioelectronics for heart pacing, these still often require open-chest surgery to be implanted, which is not only invasive but also leads to longer recovery times and increased medical care. A team comprised of experts in bioengineering, microbiology, and cardiology has now engineered a biocompatible wireless microelectronics device to form a microtubular pacemaker for intravascular implantation and pacing. The microtubular pacemaker is designed for insertion through the blood vessels, thereby avoiding invasive surgery. It has shown promise in effectively restarting cardiac contraction from a non-beating heart in a porcine animal model, marking a significant step toward less invasive heart care and the possibility of battery-free cardiac support devices.
The research team at the University of California, Los Angeles (UCLA, Los Angeles, CA, USA) built the self-assembled, implantable, microtubular pacemaker using light, wireless components that deliver the necessary electrical output to facilitate intravascular myocardial pacing and mechanical coupling. The device's special microtubular structure reduces the risk of medical complications that are often associated with traditional pacing methods. The pacemaker receives its power wirelessly through a thin, flexible membrane composed of polyimide. This membrane is coated with a protective elastomer to prevent electrical leaks and is powered by a custom-designed radiofrequency transmitter, ensuring efficient energy transfer to stimulate the heart.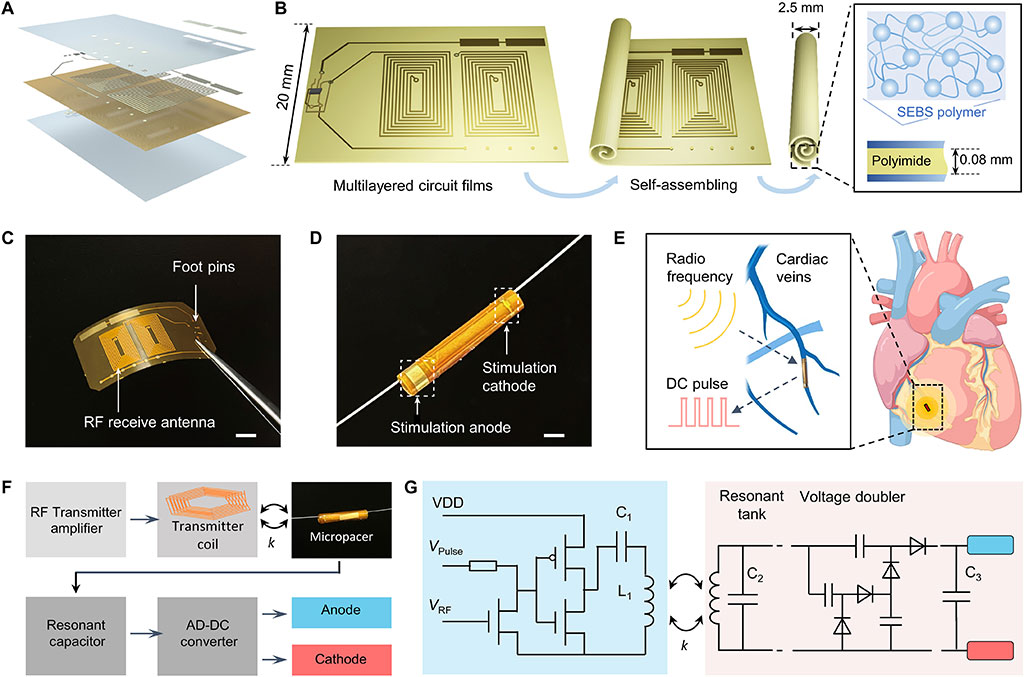 After implanting the device in the anterior cardiac vein, the pacemaker succeeded in its crucial task: it restored cardiac contraction from a non-beating heart and showed the capacity to perform overdrive pacing to augment blood circulation in an anesthetized pig model. This breakthrough in microtubular pacemaker technology is not just for the heart; it could potentially be adapted for cardiac, gastric, and urological stimulations. By doing away with the need for battery storage and avoiding the necessity for open-chest surgery, this innovation could drastically reduce recovery times.
Related Links:
UCLA 

Visit expo >
Other channels