AR-Based Surgical Visualization and Navigation System Sees First Inpatient Utilization
By HospiMedica International staff writers
Posted on 10 Nov 2023
Current medical imaging tools have limitations, notably flat panel monitors that confine doctors to 2D imagery and require looking away from the patient during procedures, possibly affecting outcomes. To overcome these challenges, an innovative augmented reality (AR) surgical visualization and navigation system has been adopted for clinical use for the first time. This system is designed for minimally invasive ultrasound and CT-guided needle-based procedures for soft tissue and bone.
MediView XR's (Cleveland, OH, USA) XR90 AR-based surgical visualization and navigation system integrates Microsoft's HoloLens2 AR headset, enabling clinicians to view holographic ultrasound images which enhances their workflow. The system transcends traditional 2D imaging limits by offering 3D internal anatomical visualization, including bones, tissues, organs, and blood vessels, right beneath the patient's skin. Utilizing the patient's CT data, XR90 merges this with live ultrasound for conducting minimally invasive procedures, such as biopsies and tumor ablations.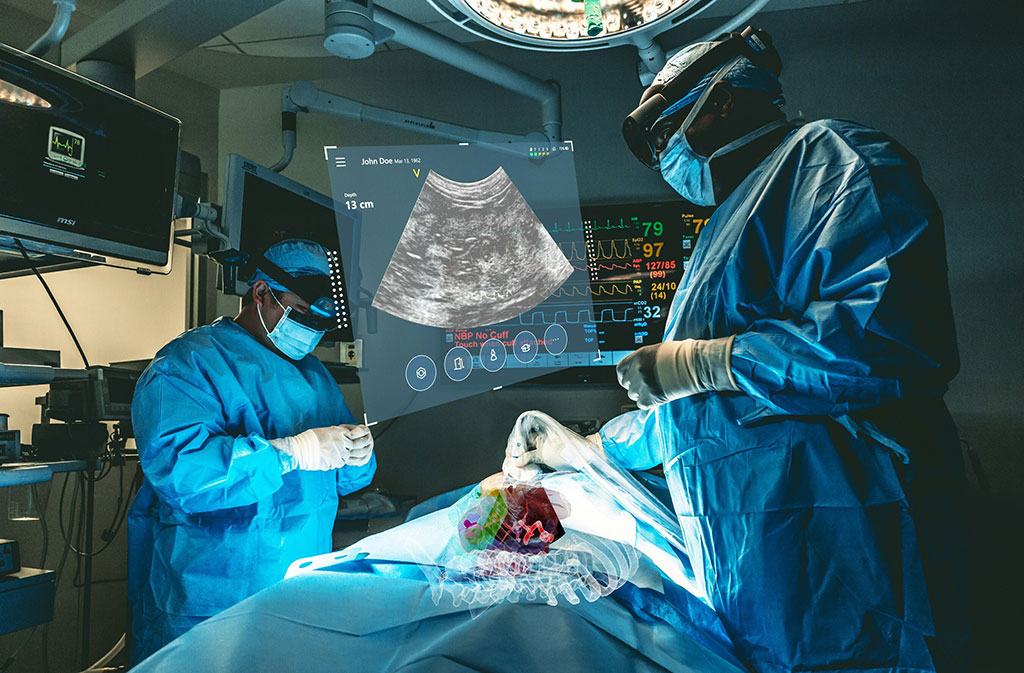 The XR90 system's AR features include a Holographic Light Ray, which visualizes the path of the surgical instrument, a 3D holographic display of the patient's anatomy based on CT imaging, and a live ultrasound projection that works similarly to a flashlight beam on the patient's body. This technology aids clinicians in pre-operative planning, enhances procedural workflow, and improves ergonomics by providing a heads-up display of medical images during ultrasound-guided needle procedures. Additionally, it facilitates real-time remote collaboration, allowing clinicians in different locations to share visualizations, communicate effectively, and provide guidance during procedures.
In the first worldwide clinical case since its 510(k) clearance from the U.S. Food and Drug Administration, the XR90 was used to perform a mediastinal lymph node biopsy. The system proved instrumental when the tumor was not clearly visible through ultrasound alone. Using XR90's holographic anatomy, surgeons could locate the target area and then plan their approach with the holographic needle tracking feature, corroborating with standard care techniques. This initial clinical use highlights the system's practical value, particularly in correlating CT-identified anomalies with live ultrasound displays.
"We are pleased at the successful utilization of our holographic visualization and navigation system," said Mina Fahim, President and CEO of MediView. "This is an incredible milestone for MediView and the medical AR space, marking just the beginning of the potential impact of MediView's AR ecosystem on disrupting – and democratizing healthcare."
Related Links:
MediView XR 

Visit expo >
Other channels