Pelvic Muscle Trainer Treats Female Urinary Incontinence
By HospiMedica International staff writers
Posted on 24 Mar 2017
An innovative device uses cell-phone mobile games and remote medical monitoring to encourage at-home pelvic floor rehabilitation.
Under development at Universitat Politècnica de Catalunya, Kuopio University Hospital, and other institutions, the WOMEN-UP system consists of three elements. The first is a wearable pelvic floor muscle training (PFMT) abdominal belt with a set of sensors embedded in it and an additional vaginal probe, all connected to a wireless device that first records electromyographic signals from both the abdomen and the pelvic floor, and then sends the data to the smartphone app via Bluetooth.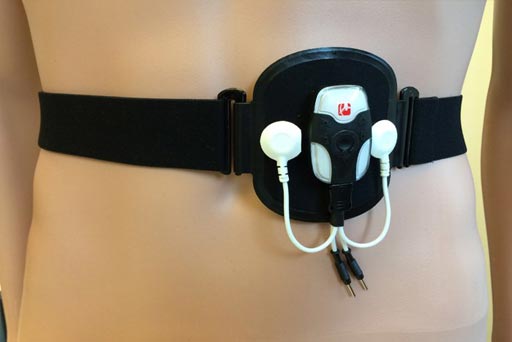 The second component is the smartphone app, with an intuitive interface and games that provide an entertaining and efficient way to execute PFMT exercises with concurrent, automatic evaluation of completion. The app collects the PFMT and additional lifestyle performance data and sends it to a secure web server, which charts the progression of the treatment. The web platform also links to a Hospital Information System (HIS) and a clinical management program, permitting patient-therapist interaction.
"The therapist obtains information telematically through the platform and monitors and programs customized exercises, while the patient can evaluate the results in real time," said project coordinator Professor Miguel Ángel Mañanas, PhD, of the UPC department of automatic control. "Both the patient and the therapist can see the evolution at any time."
Urinary incontinence is about twice as common in women than men, and its likelihood rises with age. One large U.S. study found that almost one-quarter of women in their 60s and 70s had urine leakage at least once a month; the rate rose to one-third among women in their 80s. Caffeine can also stimulate UI because it is a diuretic, and people who already have an overactive bladder may be more susceptible to those effects; even low doses of caffeine can speed muscle contractions in the bladder. Risk factors for UI include obesity and past pregnancies with vaginal births.
Latest Women's Health News
Other channels