Pessary Ring Treats Pelvic Organ Prolapse
By HospiMedica International staff writers
Posted on 25 Jul 2019
A novel disposable, non-invasive vaginal ring pessary treats various pelvic floor disorders in the home environment.
The ConTIPI Medical (Caesarea, Israel) ProVate is made of a flexible skeleton covered by a soft elastomer, and is designed to expand in the vagina, distending the lateral vaginal walls aside so as to mechanically prevent cervical and vault descent, and to block further descent of the anterior and posterior walls within the hollow of the ring. The ProVate device comes ready for use in six different sizes, and is self-inserted and removed by the user (similar to a regular menstrual tampon), with only minimal touching of the genital area.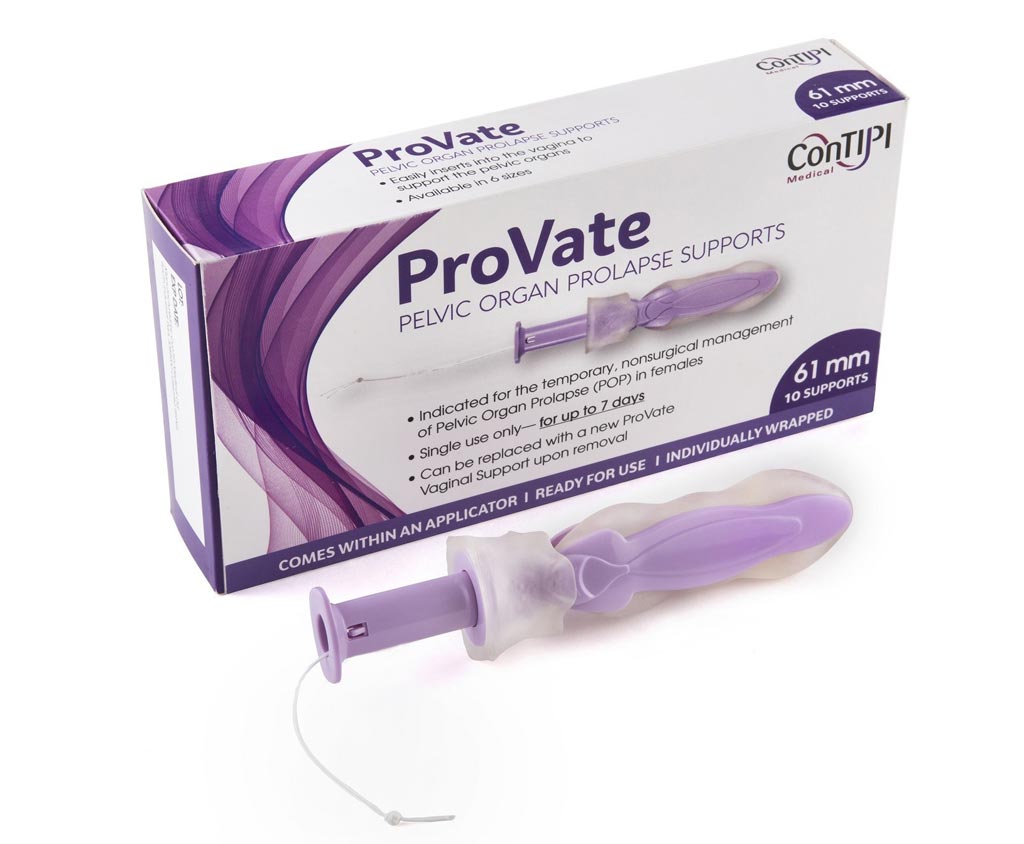 ProVate comes ready for use in a compacted mode, and is delivered using a disposable applicator that allows for a smooth and comfortable insertion into the vagina. When the plunger of the applicator is depressed, the device becomes fully deployed, restoring it to its predefined size and separating from the applicator, which is then removed for disposal. ProVate itself is removed for disposal by a pull of a string that collapses into its narrow pre-insertion dimensions for an easy and comfortable removal, following a short, predefined period of time (up to a week), with no need for cleaning, as in a reusable device.
"For many years we have been working to promote pelvic floor solutions and products that will help every woman conduct a normal life and fully control her medical condition," said Elan Ziv, MD, founder and CEO of ConTIPI Medical. "This is an innovative groundbreaking product, enabling women to control their medical problem, and we assume that the product will soon be available to millions of women worldwide who would be interested in treatment."
A pessary is a prosthetic device that reduces the protrusion of pelvic structures into the vagina, which come in varying shapes and sizes. A ring pessary is similar to the outer ring of a diaphragm, and provides a non-surgical treatment option for pelvic organ prolapse (POP), support to the uterus, vagina, bladder or rectum. It is also used to treat stress urinary incontinence (SUI), a retroverted uterus, cystocele, and rectocele. Historically, pessaries may have also been used to perform abortions.
Related Links:
ConTIPI Medical

Latest Women's Health News
Other channels