Top Trends Impacting Global Wearable Devices Market
By HospiMedica International staff writers
Posted on 08 Sep 2017
The global market for wearable medical devices is projected to grow at a CAGR of more than 9% from 2017-2021, driven mainly by the increasing prevalence of chronic diseases, growing need for cost-effective diagnosis and treatment, and increasing number of compatible smartphone applications. These are the latest findings of Technavio Research, (London, UK), a global technology research and advisory company.
Increasing prevalence of chronic diseases: People suffering from chronic diseases such as diabetes and asthma require constant monitoring and are therefore, adopting wearable medical devices, which help to reduce costs and the burden of hospital visits. CVDs are estimated to cause approximately 19 million deaths by 2020, while asthma accounts for six to seven in every 1,000 deaths annually. The number of people aged 65 years and above is expected to rise to about 1.6 billion by 2050. The rising prevalence of CVDs such as stroke and chronic respiratory diseases like asthma, coupled with the increase in aging population is expected to lead to higher demand for wearable medical devices.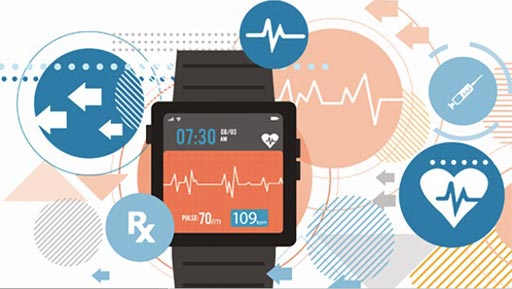 Growing need for cost-effective diagnosis and treatment: The treatment of chronic diseases such as diabetes, asthma, and cancer is significantly less expensive and easier to manage when detected at an early stage. Smart wearables allow early detection of such diseases, thereby helping in their effective management. Self-monitoring of medical conditions using connected wearable medical devices helps reduce costs and promote healthier lifestyles. For instance, wearable ECG portable machines are more cost effective for people in need of regular ECG monitoring. Similarly, people suffering from CVDs can use wearable medical devices to detect AF instead of undergoing multiple ECG tests at hospitals.
Increasing number of compatible smartphone applications: The increasing adoption of smartphones is also driving the growth of the global wearable medical devices market. With the advent of smart wearables, there has been a significant increase in the scope for remote monitoring. Wearable patient monitoring devices record various vital signs such as heart rate, respiratory rate, skin temperature, and glucose levels, thus generating significant volume of data in the process that can be analyzed using smartphones. For instance, companies such as Fitbit and Garmin have launched wearable medical devices which are compatible with smartphones for monitoring heart rhythms, sleep, and calories.
"Wearable devices that are connected with cloud-based monitoring technologies enable digital remote monitoring and reduce hospital expenditure and costs. These products are gaining popularity among consumers and are expected to witness increased adoption due to reducing prices," said Ramakrishna Edupulapati, a lead analyst at Technavio for orthopedics and medical devices research. "The global smart devices market is growing rapidly, as vendors are making significant investments in R&D to develop new products. With innovative technologies, cloud computing, and machine learning, the use of smartphones with specific applications will drive the demand for wearable medical devices."
Related Links:
Technavio Research

Other channels