Cost-Effective da Vinci Surgical Option Launched
By HospiMedica International staff writers
Posted on 16 May 2017
A new da Vinci system offers surgeons and hospitals access to advanced, innovative robotic-assisted surgical technologies at a lower price.
The da Vinci X System offers surgeons and hospitals access to a wide portfolio of advanced, innovative robotic-assisted surgical technologies and a full ecosystem of programs, support, services, and solutions. The system features flexible port placement, advanced three dimensional (3D) digital optics, voice and laser guidance, drape design that simplifies surgery prep, a lightweight, fully integrated endoscope, and proprietary surgical endoscopic instruments rigid endoscopes, blunt and sharp dissectors, scissors, scalpels, forceps, pick-ups, needle holders, and endoscopic retractors.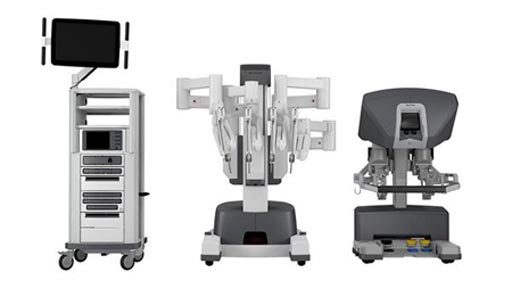 The system enables optimized, focused-quadrant surgery for procedures such as prostatectomy, partial nephrectomy, hernia repair, benign hysterectomy and sacrocolpopexy, among many others. And as the da Vinci X uses the same vision cart and surgeon consoles found on the da Vinci Xi, it enables users the option of adding advanced capabilities, and provides a pathway for upgrading should they choose to do so as practice and needs grow. The da Vinci X System is a product of Intuitive Surgical, and has received the European Community CE mark of approval.
"The da Vinci X System is a value-oriented, highly capable offering that meets, and responds to, our customers' economic and clinical needs," said Damien Desmedt, general manager of Intuitive Surgical in the United Kingdom, Ireland, and Nordic countries. "In the countries we serve around the globe, we know that customers have different needs and wants, and we strive to provide an array of choices to meet their needs today and in the future. The da Vinci X System helps us to continue to do this."
"Over the past 21 years, Intuitive Surgical pioneered robotic-assisted surgery and we continue to lead the way in developing and bringing to market innovative technologies, outcomes-focused products, and value-oriented solutions," said Gary Guthart, MD, CEO of Intuitive Surgical. "The da Vinci X product offering provides a lower-cost solution to meet the needs of customers who want a choice in price points, while offering access to many of our recent innovations."
The da Vinci surgical systems consist of an ergonomic surgeon console or consoles, a patient-side cart with three or four interactive surgical arms, a high-performance vision system, and other accessories, including devices for endoscopic tissue manipulation, grasping, cutting, dissection, approximation, ligation, suturing, and delivery and placement of microwave and cryogenic ablation probes.
Latest Surgical Techniques News
Other channels