New Guideline Defines Optimal Post-Op Opioid Dosage
By HospiMedica International staff writers
Posted on 10 Oct 2017
A new study provides evidence-based guidelines for opioid pain prescription length, which balance pain management with risk of addiction.
Researchers at Brigham and Women's Hospital (BWH; Boston, MA, USA) and the Uniformed Services University of the Health Sciences (USUHS; Bethesda, MD, USA) conducted a study involving 215,140 individuals (107,588 women and 107,552 men; 18 to 64 years of age) in order to clarify patterns of opioid pain medication prescriptions following eight common surgical procedures, and to determine appropriateness of the prescription as shown by need for an additional prescription for opioid pain medication, or a refill.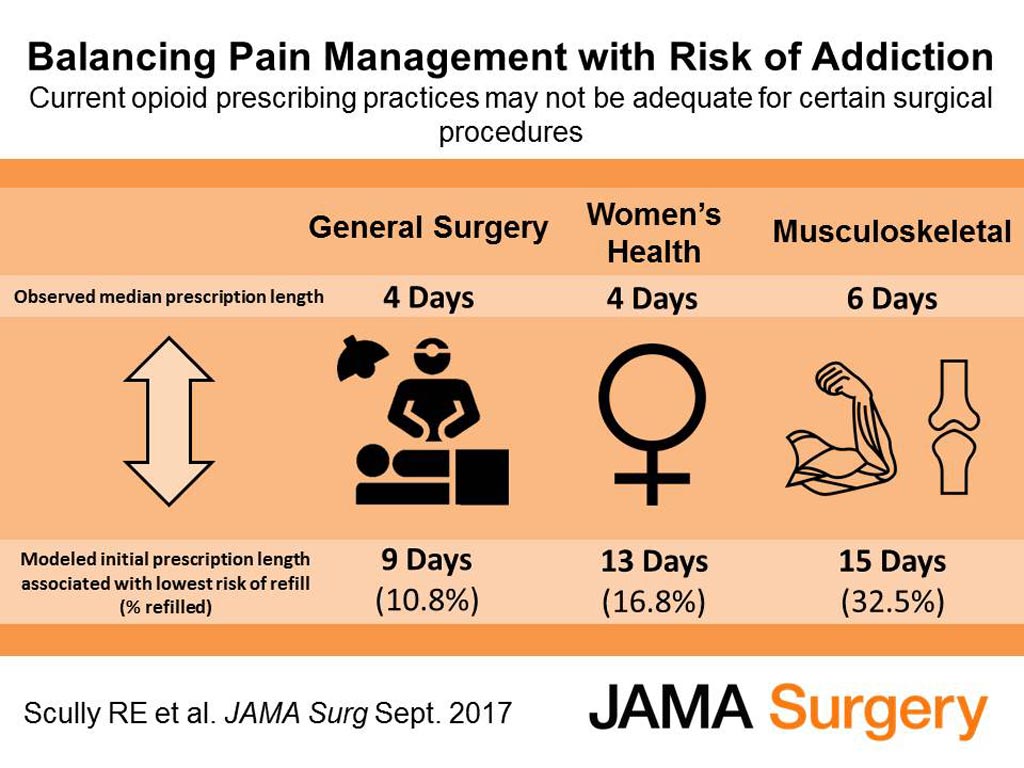 The results indicated that the median observed prescription lengths were four days for general surgery procedures, four days for women's health procedures, and six days for musculoskeletal procedures. The prescription lengths associated with lowest requirement for refill were nine days for general surgery, 13 days for women's health, and 15 days for musculoskeletal procedures. The number of people who required a refill of their opiate prescription varied from 11.3-39.3%, depending on the type of procedure performed. The study was published in the September 2017 issue of JAMA.
"Ideally, opioid prescriptions after surgery should balance adequate pain management against the duration of treatment," said lead author Rebecca Scully, MD, MPH, of BWH. "While seven days may be more than adequate for many patients undergoing common general surgery and gynecological procedures, prescription length limits may need to be extended to 10 days, recognizing that as many as 40% of patients may still require a refill at a seven-day limit for pain management, particularly following many orthopedic and neurosurgical procedures."
Opioids are primarily used for pain relief, but are also used to suppress cough and diarrhea. They act by binding to opioid receptors found in the central and peripheral nervous system and the gastrointestinal (GI) tract. The receptors mediate both the psychoactive and the somatic effects of opioids. Side effects of opioids include itchiness, sedation, nausea, respiratory depression, constipation, and euphoria. Since opioid use can lead to addiction and fatal overdose, most are controlled substances.
Related Links:
Brigham and Women's Hospital
Uniformed Services University of the Health Sciences

Latest Surgical Techniques News
Other channels