Robotic Biopsy System Diagnoses Peripheral Lung Cancer
By HospiMedica International staff writers
Posted on 06 Mar 2019
A minimally invasive lung cancer biopsy system snakes its way through the airways to reach nodules in the peripheral lung.
The Intuitive Surgical (Sunnyvale, CA, USA) Ion endoluminal system is based on an ultra-thin articulating robotic catheter that can move 180 degrees in all directions. With an outer diameter of just 3.5 mm and a working channel of 2 mm, physicians are able to navigate through small and tortuous airways to reach nodules in any of the 18 airway segments within the lung. Ion is designed to integrate into existing lung nodule biopsy workflows, as well as into existing imaging technologies, including fluoroscopy, radial-endobronchial ultrasound, and cone-beam CT.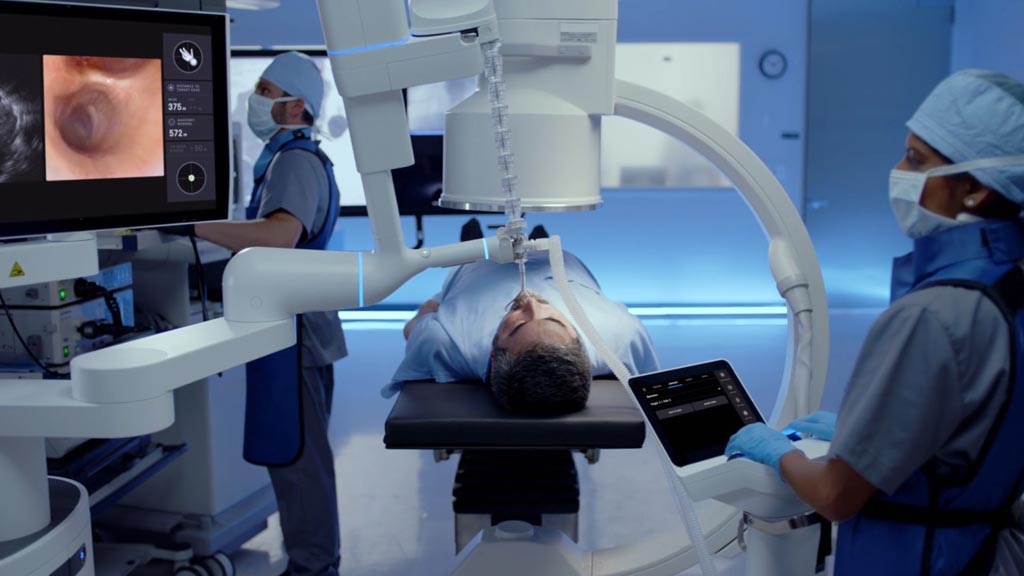 The minimally invasive system also employs fiber-optic sensor technology, which details the precise shape and length of the catheter for the surgeon throughout the procedure. Once a target nodule is reached, the catheter locks in place to provide the stability needed for precise placement of biopsy tools. The Flexision flexible biopsy needle can then collect tissue samples within the peripheral lung. The catheter's working channel can also accommodate additional biopsy tools, such as forceps or cytology brushes, if necessary.
"Early lung cancer diagnosis can save lives. Intuitive's advanced, robotic-assisted, minimally invasive Ion system helps address a challenging aspect of lung biopsy by enabling physicians to obtain tissue samples from deep within the lung," said Gary Guthart, CEO of Intuitive Surgical. "Lung cancer is clearly a global health challenge that requires new modalities of care. The Ion system represents Intuitive's continued commitment to innovating for minimally invasive care, and extends our focus beyond surgery."
Lung cancer is a malignant tumor characterized by uncontrolled cell growth in tissues of the lung. If left untreated, it can form metastases in nearby tissues or other parts of the body. Primary lung cancers are carcinomas derived from epithelial cells, with the main types being small-cell lung carcinoma (SCLC) and non-small-cell lung carcinoma (NSCLC). As pulmonary nodules are found in up to 25% of patients undergoing a chest CT, the question of whether or not to perform a biopsy is becoming increasingly common.
Latest Surgical Techniques News
Other channels