Breakthrough Device Disrupts Implant Biofilm Buildup
By HospiMedica International staff writers
Posted on 04 Nov 2019
A minimally invasive device helps eliminate biofilm infections on prosthetic knee implants during early intervention procedures.
The Garwood Medical Devices (Buffalo, NY, USA) BioPrax device is based on Cathodic Voltage Controlled Electrical Stimulation (CVCES), which helps to break down biofilm so that bacteria become visible to the immune system, and susceptible to pharmaceutical treatment. The low (1.8V) voltage electrical current is applied to the surface of the knee implant, converting it into a working electrode. Current is also passed through counter and reference electrodes, in such a way that that while the current through the counter electrode is varied, the electric potential of the working electrode is constant, relative to the electric potential of the reference electrode.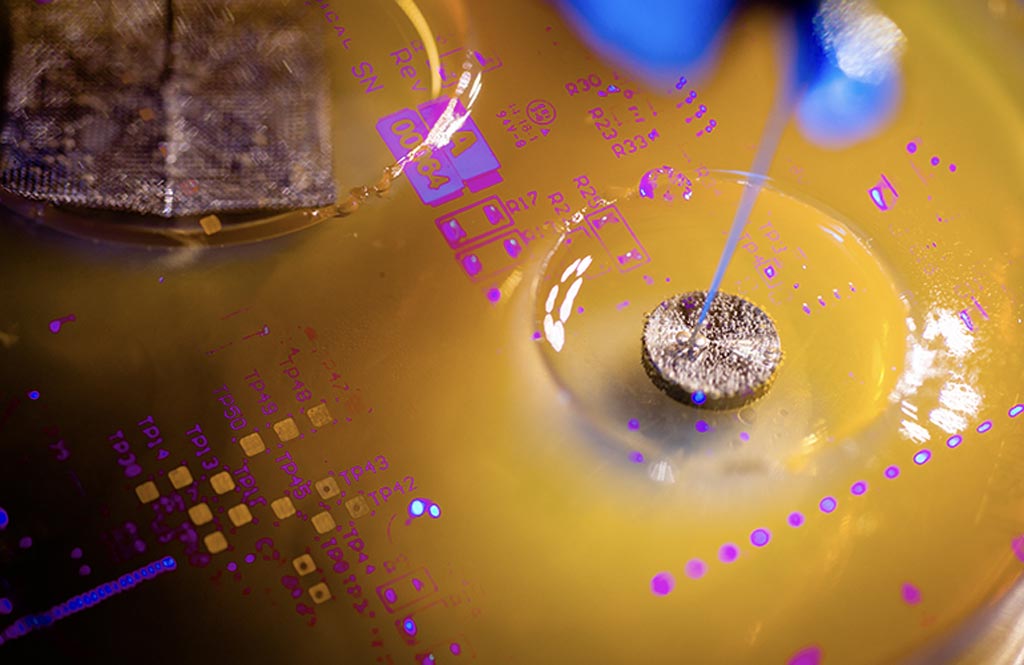 The resulting electrical fields create an environment that elicits antimicrobial activity against bacteria on the implant and in surrounding bone tissue. In animal studies conducted to date, BioPrax reduced the viability of clinical biofilms by up to 99.9% across multiple combinations of bacterial strains--including
methicillin-resistant Staphylococcus aureus
(MRSA)--and metal types, following application of constant cathodic voltage to commercially pure titanium for one hour. The technology will soon be expanded to help eliminate biofilm infections on other types of medically implanted metallic devices, including all artificial joints, bone screws and plates, and dental implants.
"Breakthrough Device designation by the FDA is recognition that BioPrax appears to be on the right path towards the treatment of periprosthetic joint infections in knee implant patients," said Wayne Bacon, CEO of Garwood Medical Devices. "Our goal is to eliminate the need for follow-up surgeries. We think we can wipe out infection-causing bacteria before trouble starts."
Biofilms protect bacterial communities via extracellular polymeric substances (EPS) that form a matrix (diffusion barrier) that limits antibiotic penetration and immobilizes them. The diffusive barrier also results in nutrient gradients that cause decreased growth and metabolic inactivity in parts of the biofilm, allowing persister cells to arise. The increased persister cell formation is particularly observed in Gram-negative bacterial biofilms, as their cell membranes are composed of lipopolysaccharides that further limit antibiotic penetration.
Related Links:

Garwood Medical Devices
Other channels