3D Imaging Technique Detects Uterine Contractions
By HospiMedica International staff writers
Posted on 25 Mar 2019
A new study suggests that electromyometrial imaging (EMMI) could help identify and prevent preterm labor.
Developed by researchers at Washington University School of Medicine (WUSTL; St. Louis, MO, USA), EMMI combines detailed body surface electrical recording with body-uterus geometry derived from magnetic resonance imaging (MRI) scans. The resulting color-coded, three-dimensional (3D) images and movies display uterine contractions at high spatial and temporal resolutions. By identifying where contractions begin, clinicians can better understand the velocity, direction, and coordination of uterine contractions that contribute to labor.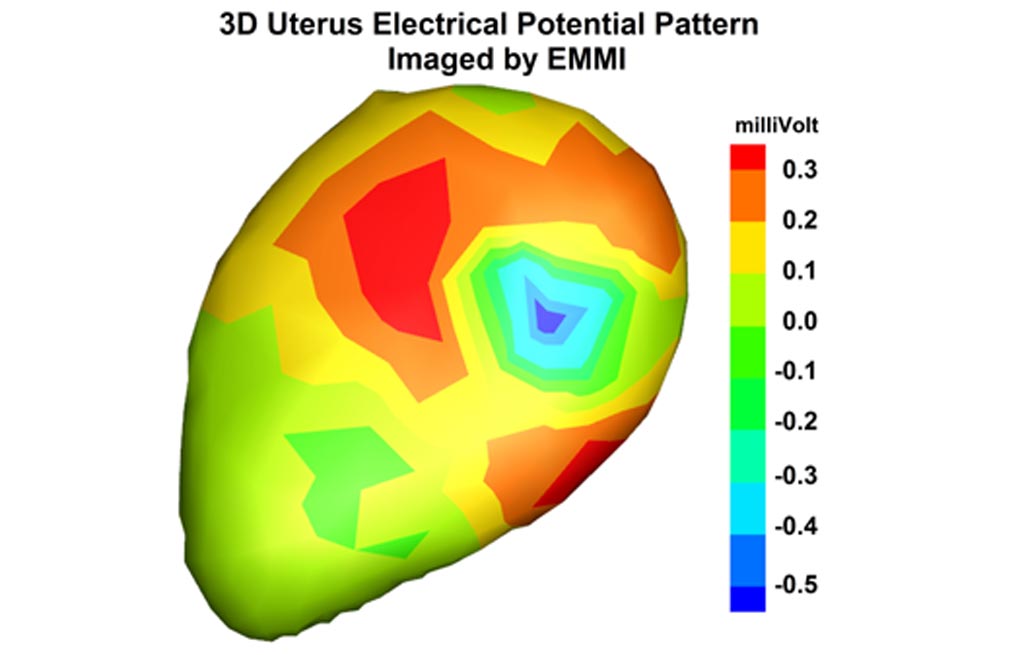 To show that EMMI can reconstruct uterine electrical activation patterns from electrodes placed on the abdomen, the researchers tested the technique on a sheep model. The contraction patterns measured closely match those recorded with electrodes invasively placed directly on the uterine surface. Modeling experiments showed that EMMI reconstructions are not affected by noise and geometrical deformation, and that the EMMI setup tested on the sheep was suitable for humans as well. The study was published on March 13, 2019, in Science Translational Medicine.
"Our results indicate that EMMI can noninvasively, safely, accurately, robustly, and feasibly image three-dimensional uterine electrical activation during contractions in sheep and suggest that similar results might be obtained in clinical setting," concluded lead author Yong Wang, PhD, and colleagues. "EMMI might provide an easily accessible method to help doctors during labor and to better understand uterine electrophysiology and pathophysiology."
"We've got imaging techniques to allow doctors to study another muscular organ – the heart. Without even touching the heart, doctors can determine where each beat comes from, the direction in which it moves, how fast it moves, and much more'" said Kelle Moley, MD, chief scientific officer of the March of Dimes (White Plains, NY, USA), which funded the study. "EMMI is a new way to study the pregnant uterus in a similar fashion, and we hope it will lead to the development of similar types of drugs and treatments to stop contractions that lead to preterm labor."
Monitoring uterine contractions during labor is critical to ensure good health of the mother and of the baby. In current clinical practice, uterine contractions are monitored via a tocodynamometer or an intrauterine pressure catheter, both of which only provide crude information about contractions.
Related Links:
Washington University School of Medicine

Latest Women's Health News
Other channels