Delayed Cord Clamping Advances Early Functional Development
By HospiMedica International staff writers
Posted on 27 Feb 2019
A new study suggest that a five-minute delay in umbilical cord clamping results in increased iron stores and brain myelin in areas important for early-life functional development.
Researchers at the University of Rhode Island (South Kingstown, USA), Brown University (Providence, RI, USA), Women and Infants Hospital of Rhode Island (Providence, USA), and other institutions conducted a study involving 73 healthy pregnant women and their singleton fetuses, who were randomized to either delayed umbilical cord clamping (DCC) or immediate clamping (ICC) in order to evaluate whether placental transfusion influences brain myelination.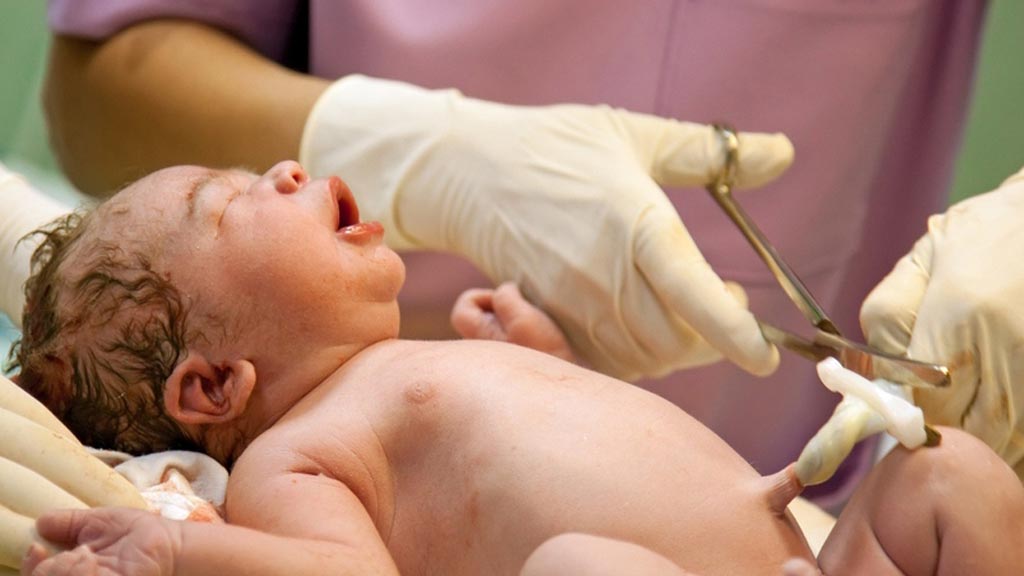 At four months of age, blood was drawn for ferritin levels. The researchers also measured brain myelin content using magnetic resonance imaging (MRI), and administered neurodevelopmental testing. The results revealed that infants with DCC had significantly greater ferritin levels, and there was a positive relationship between ferritin and myelin content. Infants randomized to the DCC group had greater myelin content in the internal capsule and other early maturing brain regions associated with motor, visual, and sensory processing/function. The study was published in the December 2018 issue of The Journal of Pediatrics.
"When we wait five minutes to clamp the cords of healthy babies, there is a return of the infant's own blood from the placenta, and one of the results is a return of up to 50 percent of the baby's iron-rich blood cells," said co-lead author Professor Debra Erickson-Owens, RN, PhD, who is also a certified nurse-midwife. "So when the brain needs red blood cells and iron to make myelin, the robustness of the iron stores makes a big difference."
"Waiting five minutes or more before clamping the umbilical cord, while infants are held skin-to-skin with the mother, leads to more myelin development. This is a low-tech, low-cost technique that we believe can mitigate iron deficiency and vulnerability to anemia," concluded Professor Erickson-Owens. "No other studies have been published on the association of the timing of cord clamping with early brain development, specifically myelin volume. What was significantly different was the amount of iron and brain myelin volume in the babies with delayed cord clamping, which was captured by an MRI."
Clamping and cutting of the umbilical cord is the most prevalent of all operations, but the optimal timing is controversial, since clamping may have a significant influence on placenta-to-infant blood transfer. Physiological studies have shown that there is a transfer from the placenta of up to 100 ml of blood at three minutes after birth, which may help prevent iron deficiency during the first year of life. On the other hand, there is also evidence to suggest that DCC and cutting may put newborns at a higher risk of polycythemia, hyperbilirubinemia, and other neonatal disorders.
Related Links:
University of Rhode Island
Brown University
Women and Infants Hospital of Rhode Island

Latest Women's Health News
Other channels