Robotic Sensor Technology Diagnoses Reproductive Health Issues
By HospiMedica International staff writers
Posted on 07 Mar 2019
New robotic sensors can measure hormones that affect fertility, sexual development, and menstruation in real-time and at less cost than current methods.
Developed by researchers at Imperial College London (Imperial; United Kingdom) and the University of Hong Kong (China), the Robotic APTamer-enabled Electrochemical Reader (RAPTER) electrochemical analysis system is designed to assess reproductive functioning by measuring the pulsatile secretion of luteinizing hormone (LH). RAPTER uses an electrochemical aptamer-based 96-well-plate sensing platform that identifies DNA aptamers that bind specifically to LH, and not related hormones.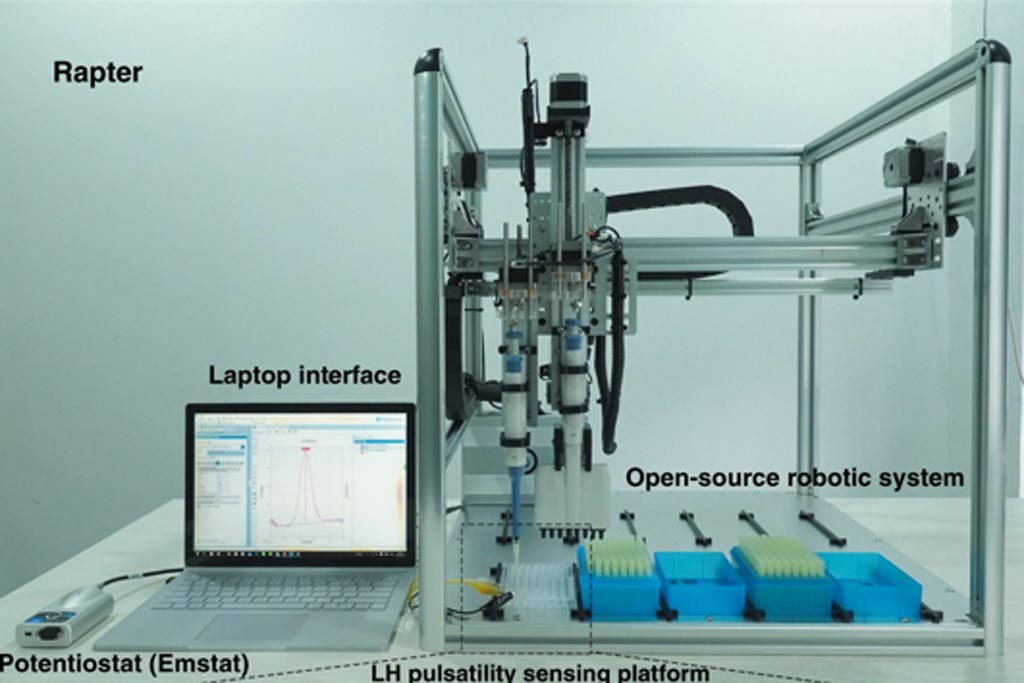 In a study involving 441 blood samples of women who either had normal reproductive function, were menopausal, or had hypothalamic amenorrhea, the low-cost RAPTER platform was able to instantly detect changes in LH pulse patterns using Bayesian spectrum analysis, distinguishing between women with menopause who have high LH levels, healthy fertile women with normal LH levels, and women with hypothalamic amenorrhea who have low LH levels. The study was published on February 20, 2019, in Nature Communications.
"We have developed technology that is able to measure LH pulsatility in patients more quickly and cheaply than current methods," said senior author Professor Tony Cass, PhD, of the Imperial College London chemistry department. "We will now work towards making the technology more accessible for the clinic by reducing the size of the device, which could revolutionize the clinical care of patients with reproductive or other disorders."
"The detection methodology that we have developed for LH sensing is widely applicable for real-time monitoring of all kinds of biomolecules that relate to health and wellbeing. It could also be developed to monitor other hormones, such as cortisol," said senior author Julian Tanner, MD, of the University of Hong Kong. "Excitingly, with further research, this technology could be adapted for implanted sensors that could transform health monitoring in all kinds of contexts."
Reproductive function is governed by a highly orchestrated pattern of hormonal feedback across the hypothalamic–pituitary–gonadal axis, with the pulsatile release of LH compromising a critical element of downstream regulation of sex steroid hormone synthesis, and the production of mature oocytes. Levels of LH and altered patterns of LH pulse secretion have been linked to hypothalamic dysfunction, resulting in numerous reproductive disorders, including polycystic ovary syndrome, hypothalamic amenorrhea, and delayed or precocious puberty.
Related Links:
Imperial College London
University of Hong Kong

Latest Women's Health News
Other channels